Married Duo, JT and Leanne, Make Debut on Bama Country Morning Show
New lineup for Bama Country 98.9 WBAM Starts This Week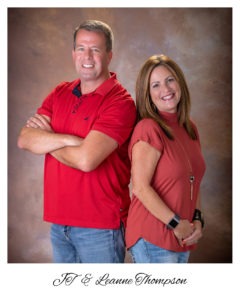 Montgomery, AL 2020: Bluewater Broadcasting is pleased to announce that the two newest members of our on-air staff, JT and Leanne Thompson, both made their debut on the Bama Country Morning Show as of Monday, March 2nd, 2020.
JT & Leanne are a married couple with over 15 years of experience in both television and Morning Drive Radio as "Married with Microphones", most recently as 13-year morning hosts on MIX 103. Leanne said, "We are super excited to be live and local again in the morning and in touch with the community!" JT added, "After a couple years' break, I can't tell you how excited I am to work with Leanne again in this new format. We've gone Country and we couldn't be more stoked! Thank you to Rick Peters and Bluewater for the opportunity."
Rick Peters, Managing Partner of Bluewater adds, "We at Bluewater have been fortunate enough to be able to attract the best radio talent in the market. We've long wanted JT & Leanne to be part of our team, and that dream is finally realized. We're looking forward to a great 2020."
Dr. Sam will be taking over the midday shift from 10a to 2p on Bluewater Broadcasting's Bama Country WBAM, while Bubba will move into afternoons from 2p-7p and Kristy will be moving into the night shift spot from 7p to 12a.
Bluewater Broadcasting owns eight total stations including BAMA Country 98.9, Adult Contemporary, KISS 96.1; Alternative, 104.9 The Gump; NewsTalk 93.1; Classic Country, Possum 103.9; Urban, 97.9 Jamz; Album Rock, 107.1 The Vault; and Hip Hop Oldies, Yo! 100.5.